DSFCA 5th National Breed Specialty Show and Seminar
November 12th, 13th and 14th, 2010
In conjunction with American Rare Breed Association's Hollywood Classic Show
Hotel Claremont
840 South Indian Hill Blvd.
Claremont, CA 91711

Friday November 12th
Casual meet and greet in the conference room just off the main Tennis court. We had a mini conformation training class to help those who were new to the ring. This a great way to start the weekend activities.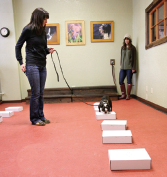 This year we had a special treat for our Meet and Greet. Ramona Audette from the California Academy of Dog Behavior conducted a basic Nose Work class. Pizza was brought in for a casual dinner after the class.
Saturday November 13th
Show #2 - the DSFCA Specialty Show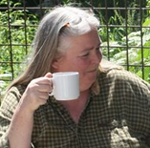 The guest judge, Marianne Schlüter of Kennel My Bonnie (Denmark), evaluated each dog during the competition. Written critiques were issued to all participants. These critique are displayed on the Members Only section of the DSFCA Web site along with the past four Specialty critiques.
Evening dinner presentation was by our guest judge, Marianne Schlüter from Denmark.
Sunday November 14th
DSFCA Annual Meeting
The Annual meeting was held Sunday Morning before the Shows in the hotel conference room. Minutes of the meeting are posted on the Member's Only Website.
The DSFCA Specialty Judge, Marianne Schlüter
Kennel My Bonnie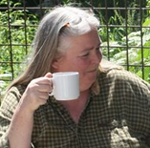 For those who have traveled to Denmark you will be able to share with the rest of us what a wonderful person and authority on the Farmdog Marianne is. Marianne is doing this for us at a great hardship to herself, she is deathly afraid of flying. To help her, Niels her husband will accompany her.

We hope everyone will make a added effort to join us at this show, her breeding expertise of the Farmdog is more than 25 years in the making. You have questions about breeding she will be the one to help. As much as we all would have liked to shown off our dogs to Ole Staunskaer, Marianne Schlüter is a real gift to us.
Out-takes from Susan Mirbach's article: Summer Adventure in Denmark - Danish Swedish Farmdog Paradise...
At Marianne's, I found Pingo was a true gentleman…just like his son, though quite a bit smaller. In dog speak, Pingo conveyed his greetings to his other offspring with Annika (Skoen's siblings): Lexie, Disa and Frisco.

Marianne's other DSFs were fantastic too. Marianne's DSF family includes: My Bonnie (M.B.) Indyana Jones, M.B. Bikini Badenymfe, M.B. Bodille Babysitter, M.B. Forsøde Fine Freja, M.B. Calorius, Alfred, M.B. Burgerking Medium, M.B. Oh Mein Papa = Pingo, Orestadens Yndige Zora, Kitenga Ello Exxon, Sputnik's Frida, M.B. Gibbernakker og Krubbes Mirakulix, M.B. Duksedreng i Drejlsklæder. Plus Thor, a pointer.

And it's not just dogs; Marianne and Niels have a very fertile farm. Along with Pingo, I met their pregnant mare, baby ducks, kittens, and more.
We were all very happy to have Marianne Schlüter join us this year!
Show Classes
Dog 6-9 months

Flora's Salty Dog - Excellent

Bitch 6-9 months

Flora's Make a Joyful Noise - Good
Flora's Morning Glory - Good

Dog/Bitch 9-15 months (the day of the show)

Pacific Rim's Countess Vindaloo - Excellent
DANASA'S My Kelly's Stitch in Time - Very Good
DANASA'S My Fair Lady Gnista - Good

Dog 9-15 months:

Pacific Rim'sCherub Volt - Very Good
Pacific's Rim's Captain Vanilla - Good

Open Dog:

Winther's Jip - Excellent
Flora's Sagewood - Excellent
Annika's Mateo - Very Good
Javika's Terkel - Very Good


Emerald City's Ali - Very Good
Flora's Braveheart - Good
Pacific Rim's BarbaryBart - Good

Open Bitch:

Amanda's Anna - Very Giid
Little Denmark's Benedicte - Very Good
Pacific Rim's Bolinas Cloud - Very Good

Matilde's Nellie - Good
Matilde's Ruby - Good
Pacific Rim's Blondie - Good


Veteran/Champion class

Gonzo's Folmer - Excellent
Ageroenen's Flora Floede-Karmel - Excellent


Flora's Hans Solo - Good
Flora's Annika - Excellent

Winners Dog: Winther's Jip
Reserve Winnre: Flora's Sagewood
Best of Opposit Sex: Pacific Rim's Countess Vindaloo
Best of Winners: Winther's Jip
Best of Breed: Gonzo's Folmer