Flying With Dogs in Cargo and in Carry-on.
By Helene Riisgaard Pedersen
I have traveled with Maddy and Kikka, what to many is considered countless times, by plane with both of them in Cargo. Recently Sussi joined us in our travels as well. I have lost count of their cross Atlantic trips, which to them are simply part of their lives, a well known routine. To us, sharing our vacations and otherwise traveling life with our dogs, enriches the experience. Both for us, and for our dogs. When we are on vacation, we are relaxed and stress free, and so even that seems to rub off on the dogs. Their love for being in Denmark with us is tremendous, and their love for new adventures is by default seeming endless. They want to be where we are, so we have always brought them with us, at any cost.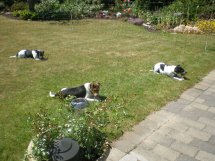 Figure 1. Stress free: Maddy, Kikka, and Greta with bully sticks
(Figure 1. Maddy, Kikka, and Greta after flight to Denmark, comfortably settled with each their bully stick, worry free, no stress. We choose to always bring our dogs along on vacation, and have them live this type of vacation along with us, over any environment offered by even the best of boarding places, away from us.)
Having a very close bond with, and a deep love for our girls, I would have never taken them on their second or following air trips, if I had just the slightest feeling of, that they were suffering in any kind of way on their first trip. I would have known, I know them well enough, I would be able to tell very easily if they had been under pressure, scared, or suffered any kind of trauma. I am therefore here to comfort anybody, who might be worried about flying with dogs. We have never had any negative experiences in over 100 total departures, flying with our Farmdogs!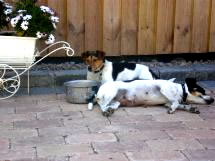 Figure 2. When we are on vacation we are stress free and relaxed. That rubs off on the dogs too. Here is Maddy and Greta on vacation, with obviously absolutely no stress!
I recommend NOT applying or comparing any of this to putting a young puppy in the cargo space of a plane. The reasons are obvious; there is a world of a difference between an adult dog, which has had experiences out in life, and learned "over coming" by doing, and a puppy. A puppy has absolutely no previous experience in life, other than its secure surroundings with Mother and siblings always near, and it will not know, that there is a "light at the end of the tunnel". It has no experience giving it the ability of "bouncing back" from traumatic events on it's own, even though a Farmdog should at any stage of life after 8-9 weeks. It is not fair to expect it, and it is not fair to such a young puppy to test it either. A puppy should, for as long as it is young and small enough, therefore only be transported inside the cabin on a flight, which allows this, accompanied by a person.
Not all departures are able to take dogs in cargo, and certain flights have seasonal limitations due to hot or cold weather. So make sure to check with the airline, prior to booking a ticket. Especially if you buy on-line, you don't want to buy a ticket and then learn, that that particular flight will not let you bring your dog, if that was your plan.
Make special reservation for the dog, that is necessary, both for cargo and carry-on.
The cargo space is pressurized and has climate control, just like inside the cabin, and the airline needs to know in advance, if they have a dog coming onto a flight. The cockpit of an airplane shows the temperature in the small area, where dogs travel, and the captain keeps it at a comfortable level, not too hot and not too cold. A live animal cannot be loaded onto a plane, without the captain knowing so prior to departure. It will be listed as such (live animal/dog) on the loading list, which he/she receives from the loading personnel, just before the door to the gate is shut.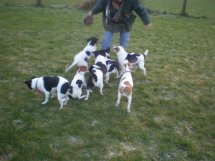 figure 3. When going to Denmark, our dogs have great opportunity to meet and interact with their family, to both theirs and our joy.
Direct flights are always the best, in our case, however, when flying to and from Denmark, it is not an option when living in Cheyenne, WY, and destination being Copenhagen. I always make sure to get an early enough connecting flight, that I have time in between flights, to give the girls a leg stretch, get them out to do their business, make sure they have water, feed them, etc. before we check them in for the next flight.
Dogs in kennels are checked in as "odd size luggage", which means they are not handled along with the normal checked in luggage, and they are also delivered in the special baggage claim area as "odd sized luggage" (such as skis, strollers etc.), they do not arrive to you on the carousel.
When checking in, if connecting, make sure to tell at the check-in counter, that you do not want the kennel checked all the way, but wish to re-check in your connecting airport. Otherwise, if the kennel gets checked all the way, you will not see your dog until final destination.
When re-entering The USA from international flights, you will always get the kennel in the first US airport you enter, even if it was checked all the way through, because you have to take it to US agriculture, and you have to carry it through US customs yourself.
For that reason I always have the kennels checked through all the way, when returning to The US. I do get the dogs, and the opportunity to bring them outside really fast, after going through customs, before passing them onto the airline personnel again for the connecting flight. Rules for entering The USA with dogs are issued/governed by CDC: www.cdc.gov/ncidod/dq/animal/dogs.htm
Airlines require certain things, which they can best tell you about themselves. Always check with the individual airline, about what they require for allowing dogs in cargo or cabin.
My experience is, that they require a kennel to be large enough, that your dog can stand up inside it, and turn around. For international flights, the kennel must have holes on all 3 sides (plus the 4th side with the wire door).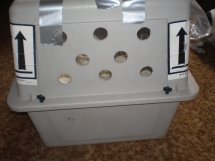 figure 4. The back side of a kennel which didn't have holes in it from the manufacturer. We have drilled these holes ourselves, and they have been proven to be ok like this.
Be aware of, that not all kennels are manufactured with holes in the back, we have had one of those, and have drilled holes in the back ourselves, it is an option, and we have used it several times with no problems.
Also some kennel manufacturers claim their kennels are "airline approved"...that might be for domestic, but not always necessarily for international travels. And those kennels might not be approved at all...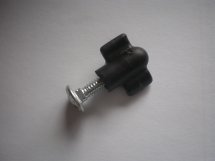 figure 5. Example of approved assembly hardware, metal bolt and plastic nut.
I have encountered the fact that kennels with plastic hardware or "snap" assembly, are not approved...the kennels must be assembled with nuts and bolts, and the bolts must be of metal, the nuts can be plastic.
The airlines also typically require a health certificate which is less than 10 days old at the time you fly. Your vet (or any vet) can do a health examination and issue a health certificate. Tell them it is for flying, in some cases the vet also wants to put airline name and flight number(s) on the health certificate, so have those available, if they ask for it.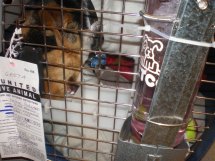 Figure 6. Our dogs eat, while they travel abroad. Here Greta proves to be un-stressed. She is not going to save the food for the trip, but "whoofs" it down instantly at time of serving in the airport. A dog, which eats, is certainly not stressed!
Our dogs eat, while they travel abroad. Here Greta proves to be un-stressed. She is not going to save the food for the trip, but "whoofs" it down instantly at time of serving in the airport. A dog, which eats, is certainly not stressed!
If you are flying "later on in the day" and only domestically (not so many hours) I would feed breakfast early, and then not feed again until at "the other end". If flying in the morning, I would skip breakfast. In our case, I do always feed the dogs inside the kennels before we take the cross Atlantic flight, and they are so not stressed by traveling, that they do eat on the way. So I feed because I know they will eat, and because by the time we board the long flight, we have already been gone from home for 12 hours, and we have another 8-9 hours to go. Maddy loves eating while flying...sort of like camping food, almost like it tastes better to her, when she has food in her kennel. I have never had air sick dogs on any air travels.
Flying domestically within The US, I wouldn't give food in the kennel, almost all flights are so short, it shouldn't be necessary. Check with the airline what rules apply, some flights might be so long, that they could require you to feed, that I wouldn't know.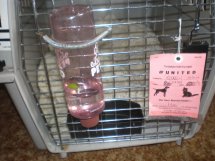 Example of set-up of kennel door. The tray used here is a double sided tray, with one side for water, and a center divider, and the other side for food. The bottle is tied to the door with a spiral metal tie, and I usually will double secure that by adding one or two zip ties to keep it in place. The special United airlines "pink slip" is also shown, it is great peace of mind to know, that your dog is loaded on the same plane, which you have boarded!
Example of set-up of kennel door. The tray used here is a double sided tray, with one side for water, and a center divider, and the other side for food. The bottle is tied to the door with a spiral metal tie, and I usually will double secure that by adding one or two zip ties to keep it in place. The special United airlines "pink slip" is also shown, it is great peace of mind to know, that your dog is loaded on the same plane, which you have boarded!
Water is the "tricky" part for us on our long trips. I have tried just about every kind of bottle, and no matter what, the kennel always gets soaking wet. Even though it says on the packages with the different kinds of bottles, that it seals tight, they don't, when the kennel gets moved around! But filling a bottle and freezing it the night before has worked really well (longest duration)...I hook it to the kennel door, so there is one of the little plastic trays under it, to catch "dribbles" as the ice melts. The dogs like the dispenser. If your dog has never had a water dispensing bottle before, let it get used to it at home for a while before you have to fly, they figure it out quickly. I also always have a bottle of water in my carry-on luggage, because then as soon as I get the dogs at the other end, I can offer them water immediately. I also keep the leashes in my carry-on luggage, so I can "hook" them really quickly and run them outside.
The best kennels for cargo are the hard plastic kinds, and most of them are airline approved. Not a soft sided kennel and not a wire kennel. The ones we use measure 19" high, 20" wide and 27" long and they are called Petporter, of the brand called Petmate. That size qualifies as a "medium" kennel on all the airlines I have flown with, and it seems large and roomy for our girls' size. I give them a nice big thick blanket (which is always in their kennels, so they know it well) and a chew bone, which is not possible for them to choke on. Usually I use plain white natural bones, just so they have something to do. I also give them "something from home", usually a toy, which is some kind of favorite. Make sure whatever items you put into the kennel are safe for them to have, and can't be choked on if chewed.
When I go abroad, I never take any other airline than SAS (Scandinavian airlines). SAS is the ONLY airline I trust 100% to take proper care of our girls, when flying cross Atlantic. I know, that their staff go through special courses for handling and dealing with pets on their flights, and according to our dogs, they do that very well.
The only domestic airline I have ever connected with is United Airlines, and they too handle our dogs to their satisfaction. United further has a special little "trinket" in their routine, which is extremely nice. When they check in a kennel, they have you fill out a pink note (see previous picture), on which you fill in your info, including the dog's name. When you have boarded the plane a stewardess will bring you the slip from that note, where it says that "xxx (in your own handwriting!) has been loaded". That is such wonderful peace of mind. SAS does not have this feature, but they have always been extremely helpful in calling "down below" before the plane leaves, to confirm to me, that my dogs are on the plane. I tell them right away, as soon as I board, that I want to know, when my dogs are loaded. Sometimes I have actually been able to stand inside by the gate, and look out the window and watch them load the dogs...SAS always does that at the very last, so sometimes I am the last person to board for that reason. But not always do I get to see it, so I ask the first person who greets me at the door of the plane to check for me, and they do.
A small secret, which no airline personnel will ever admit to you. They actually have access to the area where the dogs are. I don't know exactly how that works, but I have previously experienced on a flight, that I was in such a rush due to a late connecting flight, that I couldn't get to re-fill Maddy's water tray (that was before I used bottles). But when I got her at the other end, someone had given her water. I was told, that during the flight, they are somehow able to do that. I don't know if that only goes for the very large (Boeing 777) planes going overseas, but it is good peace of mind to know. The reason no-one will ever admit it, is of course that then everybody is going to want to go and see their dogs, and of course they can't allow that, it would be a mess, and in reality not to good for the dog either to see "Mom" or "Dad" briefly, and then have them leave again.
Give yourself plenty of time in advance to check in. It takes longer to check in with a dog, than normally with luggage only. The kennel also has to be security checked, and you must be present when they do this, because they require you to take the dog out while they do it. Ask at check-in how much time you have, sometimes they'll tell you it's ok to take the dog out one more time, before they call security for the special check, even after they have checked the dog and kennel in. I always take that opportunity, so the dogs are not in the kennel longer than absolutely need be. Once the kennel has been security checked, you will not be allowed to handle the kennel and dog anymore. Remember to also give yourself time to get through the people security check, taking shoes off and what have you. Don't stress, your dog knows if you are stressed, and that just rubs off. Talk calmly in everyday language, and don't make a huge "goodbye scene"...quick "bye bye, see you later", then go, get yourself out of sight quickly.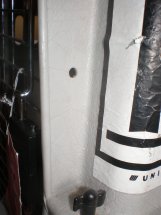 Figure 8. Hole drilled to "lock" the door with a zip tie. It is simply placed right in the edge of the kennel, and a zip tie easily ties through the grid of the door, and through the little hole, making sure the door cannot pop open by accident
A Hole is drilled to "lock" the door with a zip tie. It is simply placed right in the edge of the kennel, and a zip tie easily ties through the grid of the door, and through the little hole, making sure the door cannot pop open by accident.
I have drilled a tiny hole in the side of the kennels next to the doors, and I zip-tie through there and through the door, which simply "seals" the door shut, as the last thing I do before letting them take the dogs. I ask the guy who does the security check of the kennels, if I may do so, and they always encourage me to do that. This is so that no-one during a flight or loading or unloading will be able to by accident open the kennel and let my dog out. I won't recommend to use an actual lock requiring a key, because for safety reasons in an emergency, where the dog can perhaps be rescued, if someone can let it out, that may not be a good idea. At least a zip tie can be broken in an emergency. In my carry-on luggage I have a small nail clipper, so I can quickly clip the tie and open the door at the other end.
Make sure to have everything you need (water, leash, food, treats, zip ties, nail clipper) in the carry-on luggage, if you are connecting somewhere and have waiting time...usually the checked in luggage goes straight to final destination, so i.e. putting a nail clipper in the checked in luggage, won't do you any good between flights, when wanting to let the dog out. Also have extra zip ties in the carry-on luggage, so you can seal the kennel again after the security check between flights.
I have never used drugs for our dogs for flying. My vet doesn't recommend it, and knowing just how ready they are to "go" when I get them at the other end, I would also hate the thought of them being drugged and drowsy, extending the entire experience even further. I am very confident, that our dogs are just fine during our flights.
When I get the girls and let them out, they shake themselves really well, stretch and look at me like they are saying "ok, so what kind of fun are we going to have now". They are happy, free, and excited. The entire trip is behind them as if it hardly ever happened, and they act like they think, that all people in the airport came just for their "reception"...they do feel they are that important, that it wouldn't be all that far fetched.
In the first few days after a cross Atlantic trip, they are a bit more tired than usual, but who wouldn't be? Dogs get jet-lag too, I am absolutely certain of that, and our time difference with Denmark is 8 hours. I know I'm tired, so I take that as a completely natural thing, that they are too.
If you ever go abroad, the best travel agent is:
Superior Travels
owned by Aase Christiansen Luke,
Glendale, CA.
1-800-359-0321/818-549-8747.
Aase has helped get me and our girls out and back every single time we have ever flown, and she has set up traveling back and forth to and from Denmark for a lot of other people with a number of other Farmdogs and puppies as well through the years. She knows exactly what needs to be done on her end, and is simply THE best! She has competitive rates with SAS year round.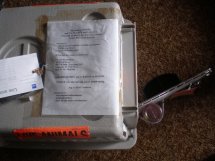 Figure 9. This shows the way I have set up the paperwork pocket on my kennels, in a sheet cover taped to the top. This holds whatever info I feel I want on there, such as this little note, and of course contact phone numbers at both ends of the trip, and copies of the paperwork.
This shows the way I have set up the paperwork pocket on my kennels, in a sheet cover taped to the top. This holds whatever info I feel I want on there, such as this little note, and of course contact phone numbers at both ends of the trip, and copies of the paperwork.
On the outside of the kennels I have a plastic sheet-cover taped. Inside the sheet cover is visibly a note with the dog's name and telephone numbers, both for the departure end, and for the arrival end. Make sure, if you have a cell number, to put that on there, don't use someone's home number, if they are the ones picking you up, as an example (!). Behind the front page I place copies of their health certificates, and I carry the original with me in my purse.
In my carry-on luggage, or taped to the top of the kennel (security will help with this on request, when they check the kennel), I also keep several bungee cords. The taping them to the top of the kennel is mostly because I no longer assume that security will allow them in carry-on. In particular when traveling alone, it is hard to push more than one luggage cart around in an airport, so I strap the kennels and my suitcase all on one cart. I have tried to travel alone with 2 large suitcases, carry-on bag and 3 dogs and having to push 2 carts around, I don't recommend it, but it can be done if someone shows mercy and helps...otherwise there's not a chance in the world!
That is about it. Flying with a Farmdog in cargo does not scare me or worry me. I don't like to be separated from my dogs, but the dogs are clever and trusting, typically make the most of any situation by nature, and they are good traveling dogs. It is simply just a different kind of car ride in a kennel, without the windows, and in our case very long. In any domestic cases, pretty much just "a spit down the road", as compared.
I have helped many with some of this practical information through the years, and am always available and happy to answer any other questions, to the extent that I can.
Thousands and thousands of dogs, cats, and other animals fly by plane world wide every year, both in connection with people bringing them along for vacation as we do, but also because people move to and from other countries and bring their dogs. Military people is one example of entire families moving very often. Further, some of the finest champions of the world in all sorts of dog sports and conformation events, are frequently flown to compete domestically, and world wide as well. This is to so many an "every day thing". So try not to worry, it will be ok.
Special Items Only in Regards to Denmark:
For flying to Denmark it is further required, that a dog has a current rabies shot, and the health certificate has to be "stamped and approved" by the USDA, verifying your vet actually also is a licensed vet, and that the information is correct. All vets know, how to get that done for you, make sure to ask them in advance, how many days that takes, so you will begin the process early enough to get the paperwork back before you have to fly.
You need both a US health certificate, and also a particular health certificate for entering Denmark. The correct health certificate form for entering Denmark is to be found and printed here: www.aphis.usda.gov/regulations/vs/iregs/ animals/downloads/ee_cn_fe-cert.pdf
All pages do not need to be filled out (see pictures of actual certificate filled out and stamped by USDA), but all pages must be included, whether needed to be filled out or not!
Also for flying to Denmark, the dog must have identification, and the only acceptable form is a micro chip, so even though it states so, the tattoos are no longer accepted. Be aware of, that some US microchips cannot be read by European scanners, and that the vets do not know this...they do tell you, that it can be scanned "world wide", take my word, that it is not automatically so. Call the company, which has produced the chip in question directly, the vet, who installed the chip can give you the phone number. Ask them, if they will guarantee, that the chip will read in Europe.
The chips we know will scan in Denmark are the ones our dogs have, those chips are from Avid, and are a special so-calledEuro-chip. The regular Avid chip doesn't work in Denmark. The "Home again" chip also reads fine in Denmark.
If you arrive in Denmark with a dog with a chip which cannot be read by their scanners, they will not let you in. If in doubt about your chip, and no-body can promise you it will work, contact the chip manufacturer and purchase a scanner yourself. Bring the scanner, and then you do the scanning yourself in Danish customs. They are ok with that, the dog's ID just has to be proven to them by a scanner, whether or not it is yours or theirs doesn't matter. The source for this info is this page of USDA's website: www.aphis.usda.gov/regulations/vs/ iregs/animals/animal_denmark.shtml the exact wording is the "notice" under "pets" almost at the bottom of the page and reads:
Notice: Pet dogs, cats, and ferrets must be identified with either a clearly readable tattoo or a microchip. The microchip must comply with ISO standard 11784 or 11785 Annex A, or the appropriate microchip reader must be provided along with the pet. Annex A type microchips available in the United States include AKC/TROVAN, HOMEAGAIN and AVID EUROCHIP.
Page 1 of European Health Certificate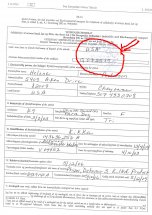 for entry with dog to Denmark, example of how it is filled out. This can be done in hand writing. What is important it, that the (blue ink, round circle) seal of The USDA has been placed over the certificate number. The certificate number comes from the US form (picture 8a), which the vet has and also fills out, and which has to accompany this certificate.
Note: that the date of the chip being placed must be an earlier date, than the one of the time of the rabies shot given.
Page 2 of the European health certificate.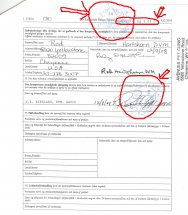 This part has to have the issuing vet's info and stamp on it. The USDA adds the certificate number to the top of the page, as well as "page 2 of 3" and places a seal stamp over that, as well as the USDA signs the certificate and places their seal over the signature.
Page 3 of the European Health Certificate.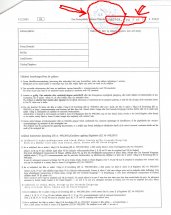 For entry into Denmark, this page has no information needed on it. However, for the certificate to be complete, all 3 pages must be present. The USDA writes in the certificate number and "page 3 of 3" and places the seal over the certificate number..
The US Interstate and International Health Certificate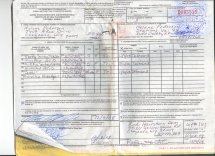 This certificate is also filled out by the vet, and has to accompany the other certificate. If traveling with multiple dogs, all of the dogs can be included on this form, as in this example. The other form can only be for one dog, so each dog must have one.
The USDA places the seal on top of the pre-printed certificate number, as well as on top of the USDA's signature at the bottom left.
Click here to print a sample copy of these forms
When you travel for a destination abroad, make sure in good time in advance, that you not only meet the requirements of the destination country, but also the requirements of re-entry back into The US. I.e. if you are gone so long, that your health certificate expires, you will need to renew it in the destination country, before returning. Any vet in Denmark can issue a health certificate in English to a dog.
At least 24 hours prior to arrival to Denmark or any other EU country, you have to notify the border control place, that the animal is going to arrive.
Email or fax this information to the border control place:
Information about the animal and owner, including country of origin (USA)
Arrival time and flight number
There are only 2 places in Denmark, where you are allowed to arrive directly from The USA, the airport in Copenhagen (Kastrup) and the one in Jutland (Billund). The contact info for the above information to those 2 places are:
Border control place in Kastrup:
Border Inspection Post, Kastrup at Copenhagen Airpor
Kystvejen 16
DK-2770 Kastrup
Phone:+45 72 27 60 00
Fax: +45 72 27 60 01
Email: region.oest@fvst.dk
Border control place in Billund:
Border Inspection Post, Billund at Billund Airport
Lufthavnvej
DK-7190 Billund
Phone: +45 72 27 55 00
Fax: +45 72 27 55 01
Email: region.syd@fvst.dk
For traveling to Denmark I recommend always to only use a direct flight, and not connect in any other European countries. If you connect in other countries, both on the way over and the way back, other rules than the ones I have mentioned here apply, namely the ones for the countries you connect in. I only know the Danish rules, and can't help you with any other. Be aware, that in some European countries you cannot connect with a dog period, due to quarantine rules. Go direct, and save yourself that someone takes your dog away from you in an airport somewhere. At this time, European rules for traveling with pets are being adjusted so much due to the European Union's synchronization of laws in the various countries, in many cases to the point where information about what the rules actually are, can be hard or impossible to obtain anywhere.
Definition of "current rabies shot" according to Danish law: The rabies shot must have been given no later than 21 days prior to departure. If the animal already has rabies vaccination, and it is still valid, you don't need to re-vaccinate the animal. How long a rabies vaccination is valid, depends on the vaccine producer's instructions.
For current information, considering that laws change and this article may become out dated by such, the online and most current source of information is Foedevarstyrelsen's website: www.uk.foedevarestyrelsen.dk/ImportExport/Travelling_ with_pet_animals/Dogs_cats_ferrets/
On the flight coming back into The USA all passengers are given a form to fill out for emigration/customs. The form will ask about the purpose of your travels, and what you are bringing into the country. In the area where it asks if you are bringing live animals, mark "yes" and handwrite "dog" on the form. A sample of the form is to be viewed on this Website: http://www.cbp.gov/xp/cgov/travel/vacation /sample_declaration_form.xml
The area where to fill in "yes" and handwrite "dog" is section 11 b.
When returning into The USA airport, you will first go through emigration yourself, where you show your passport and the form you filled out on the flight.
From there you have to locate the odd size luggage, as well as the carousel, where your checked in luggage will arrive. You need to carry both through customs yourself, but first you have to locate US agriculture. You can ask the emigration officer, who checks your paperwork, where agriculture is, and they will tell you. At agriculture you need to show the officer your dog's health certificate and rabies certificate, and they have to see your dog. Then they "stamp" your paperwork for customs. From there you head through customs.
If you are connecting to another flight and your luggage is checked all the way through, the airline personnel will stand ready right after you get through customs, to grab your luggage and your dog. This is where you ask for permission and instructions, to get your dog outside, and how to quickly re-check it with them.
Flying with a puppy inside of the cabin
Flying with a puppy inside of the cabin is much easier, than it may seem. A Farmdog puppy is an amazingly easy traveling little trooper. Of all the puppies I have flown with myself, and which I have been involved in other people flying with, both cross Atlantic and domestically, not one has ever "messed" while traveling. Other than when taken out of the carry-on bag and given the opportunity to "go" on a piddle pad or newspaper. And only a small percentage will do so, the rest will "hold it" all the way!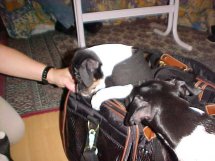 It is a good idea to let a puppy get familiar with the carry-on bag for a few days at least, before the trip. Here puppy Maddy is checking out her first traveling quarters at her breeder in Denmark, a week before her first cross Atlantic trip. It is not a good idea to leave the puppy unattended with the carrier bag...9 of 10 times, they will use it as a toy and tear it apart.
It is a good idea to let a puppy get familiar with the carry-on bag for a few days at least, before the trip. Here puppy Maddy is checking out her first traveling quarters at her breeder in Denmark, a week before her first cross Atlantic trip. It is not a good idea to leave the puppy unattended with the carrier bag...9 of 10 times, they will use it as a toy and tear it apart.
Try to familiarize your puppy with the carry-on bag for a few days, before the trip, if possible. If you are picking a puppy up at a breeder, consider shipping the bag to the breeder in advance.
Keep in mind that the airline staff may not allow you to sit with the carry-on bag or puppy in your lap. It is required to remain under the seat in front of you. You do not need to "advertise" to anybody, that you have a puppy. You can easily slip out to the restroom onboard un-noticed with your carry-on bag on a long flight, and let the puppy out, to see if it might want to do it's business. 9 of 10, it will want back into the carry-on bag. Use ice cubes (always available on planes) to keep puppy hydrated, if he/she won't drink water. They most often enjoy to chew on those. Put a little rag or a small item (toy or chew) from the puppy's first home into the bag, the well known scent will help make it feel more comfortable.
Carry-on bags come in many different shapes, brands, and colors, not to mention price ranges. Generally a carry-on bag for a Farmdog puppy can only be used once, because soon the puppy has grown out of it. I find that the cheapest edition, running $25-$30 suffices: http://www.omahavaccine.com/product_list.
Most all Farmdog puppies are small enough up until age 10-11-12 weeks, to travel in the approved size in cabin carrier. From then on, it's "iffy"...they grow differently, and in particular the males may be too tall after age 11-12 weeks, often it will be ok with a female, but it is not a given. Remember it is entirely and solely the airline personnel's decision, if they find the carrier to be too small for your puppy. If you are picking up a puppy and are flying with it, try to arrange not to pick it up too many days later than at age 12 weeks, not to take any chances on it's size. It can be extremely individual from puppy to puppy.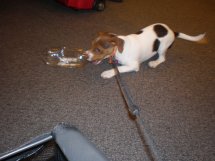 Figure12. A little bit of play while waiting at the gate to board the plane makes for a good sleep. Here Sussi is "killing" a coca cola bottle in O'Hare airport, before sleeping like a baby the entire way across the Atlantic on her first trip.
A little bit of play while waiting at the gate to board the plane makes for a good sleep. Here Sussi is "killing" a coca cola bottle in O'Hare airport, before sleeping like a baby the entire way across the Atlantic on her first trip.
Once through security inside of the airport, I have put the puppy on leash and allowed it to walk with me to the gate. I have always expected someone to stop me and tell me the puppy had to be confined in the bag, but it has yet to happen. A puppy can, with just a brief "play time" and a simple toy, be run tired at the gate while waiting to board...an empty plastic water or soda bottle as toy works great! The entire newness and all the impressions and things the puppy has to relate to in the surroundings, and the comfort of your closeness, will 9 of 10 times make it sleep tight the entire way.
I have sometimes had puppies, who were happy to eat, while flying, and sometimes puppies who wouldn't eat their regular puppy food on the trip. On the overseas flights, they serve meals for the passengers, and it is with 100% certainty that the odds of a puppy eating change drastically, when the offering is i.e. chicken, steak, potatoes, or pasta from the human menu. It is more important on long trips that a puppy eats, than an adult dog, so be ready to serve a little variety, i.e. have some good treats along for the trip, if the regular food doesn't have interest. If a puppy vomits "empty stomach" it is not because it is air sick, but because it is hungry.
For traveling domestically a puppy has to have a less than 10 days old health certificate from a vet. For traveling into The USA with a puppy from Denmark, the same is required, and nothing else, if the puppy is less than 12 weeks old on the day of arrival. Current rules can be found on CDC's site here: http://www.cdc.gov/ncidod/dq/animal/dogs.htm
Check Lists
Check list domestic flights
Check with airline and make sure to book dog
Health certificate less than 10 days old
Approved kennel
Check list Denmark, dogs over 12 weeks old
Book dog on all flights, and have it confirmed on every "leg", out and back
Approved kennel with holes in rear and approved assembly hardware
Rabies certificate, USDA endorsed (shot must be given earlier than 21 days before trip)
United States interstate and international health certificate, USDA endorsed, less than 10 days old
European health certificate for Denmark (3 pages), USDA endorsed, less than 10 days old
Notify Danish customs more than 24 hrs. prior to arrival
Make sure rabies shot does not expire before time of re-entry to The US
Get health certificate in English by Danish vet for return trip if the old one becomes more than 10 days old.
Rabies shot has to have been given at least 30 days prior to entry of The USA. Check current rules for entering The USA with dogs: www.cdc.gov/ncidod/dq/animal/dogs.htm
Puppy in carry-on check-list
Book and have carry-on dog confirmed by airline on all "legs"
Health certificate less than 10 days old
Soft sided carrier of approved (by the airline) measurements
Piddle pads or newspapers
Treats, puppy food
Check list for items to pack in carry-on luggage (and not checked luggage), when traveling with dog
Original of health certificate and rabies certificate, (copies taped to kennel top)
Leash
Water
Treats/food
For dog in cargo also
For international travels also
Scanner for chip, if not guaranteed to read by the destination authorities' scanner
---
I am always happy to help out with practical information on air travel with dogs and puppies. Please feel free to contact me.
Special rules for entry to Sweden and Norway
You cannot enter Denmark by plane, and then just drive across the bridge into Sweden with your dog.
USDA's website has information on traveling to all sorts of destinations with pets, countries listed alphabetically
www.aphis.usda.gov/regulations/vs/iregs/animals/
As well as valuable information about animal welfare specifically in regards to pet travel, kennels, and some scams to be aware of: www.aphis.usda.gov/animal_welfare/pet_travel/pet_travel_tips.shtml
Happy trails, and safe returns!
Helene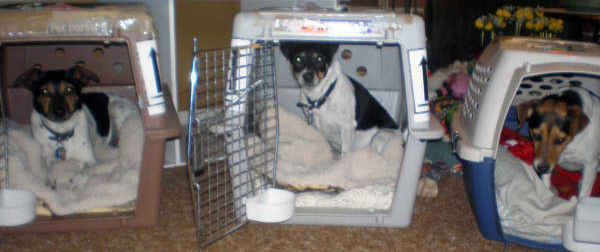 Figure 15. The kennels being prepared always gets the dogs' attention, and they each "assume positions" ...they want to make sure, not to be forgotten and left behind. Here Kikka, Maddy, and Greta are all announcing "ready to go" the night before a big trip abroad. "Happy trails and safe returns"!