Danish/Swedish Farmdog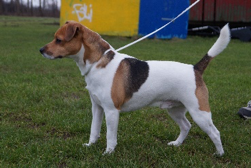 Danish/Swedish Farmdog was originally known as a Danish Pinscher, the Farmdog could be seen on the farms of both Denmark and Southern Sweden. The Farmdog was saved from extinction by the joint effort of both the Danish and the Swedish Kennel Clubs in 1987.
Intelligent, lively, easily trained with an expressive personality
Outgoing and versatile, the Farmdog loves to work and enjoys a challenge.  Therefore, they excel in a variety of dog sports and activities including obedience, agility, flyball, K9 Nose Work, lure coursing, therapy dogs, tracking and much more.  They also have that all important "off switch" when it's time take a break.
The Farmdog is also a great family dog, they are great with kids, and a loveable companion.  Like any dog, they need their exercise but also love to cuddle on the couch. Because of their role as a multi-purpose farmdog, they normally get along well with other dogs, can be socialized with the family cat and can be trained to ignore the chickens (although shouldn't be trusted around the family hamster).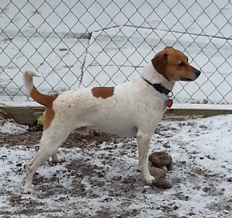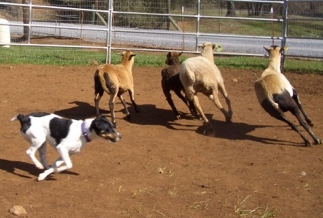 They are "not terriers."  Although often mistaken for a terrier, they are a working breed which can perform a variety of task and have an outgoing personality.  Their structure is more angulated than many terrier breed and, although they like to work, also enjoy a nice snooze in the sun.
On July 1, 2015, the Farmdog was approved to compete in AKC Herding Events.
Farmdog History
Until a few decades ago, the small Farmer's Dog was a natural part of Danish rural life. Its everyday functions were many. This little working dog had many jobs around the farm including: mouser/ratter, livestock herder, hunting dog, watchdog and family companion. The breed was so lively and trainable. It was often utilized in circuses, appearing as the clown's playmate.
In more recent times, farms were closed down and families moved to the cities. The faithful little farmer's dog was suddenly not "grand" enough, and the breed became hard to find. A part of Danish dog culture was in danger of disappearing totally.
The Danish Kennel Club and the Swedish Kennel Club worked together in cooperation to seek out typical breed specimens and save the little farmer's dog from extinction. During the search, it turned out, fortunately, that excellent healthy specimens of this tough old breed still existed.
With its new name, Danish/Swedish Farm Dog, this funny little dog is one of the newest of the national breeds in Denmark and Sweden, although it has been proven that its ancestors go far back in history. Its origins go back to the 1700's where it could be found in Great Britain, Germany and France as well as Denmark and Sweden. Though often mistaken as a terrier, this breed is most closely related to the pinscher family.
Article from "To Live in the Countryside" Author: Journalist Svend Olav Josephsen Translated into English by: Helene R Pedersen
Information Update …
The American Kennel Club's Foundation Stock Services (AKC/FSS) recognized the breed in 2011.
The American Rare Breed Association (ARBA) has recognized the Danish/Swedish Farmdog since 2001.
What is DSFCA
Welcome to the Official Web site of the Danish/Swedish Farmdog Club of America, Inc. A nonprofit American dog breed club that has sponsored all the Danish/Swedish Farmdog National Breed Specialties since the Danish/Swedish Farmdogs were first registered with the American Rare Breed Association (ARBA). The Danish/Swedish Farmdog Club of America (DSFCA) was first established in 2003 and incorporated March 17, 2005 as the official breed club for Danish/Swedish Farmdogs registered and living in the United States.