Danish/Swedish Farmdog Club of America, Inc
FUZZY BUTTS, GIGGLES and TAILS
Fall 2015 DSFCA Newsletter
In this Issue:
October, 2015
Agerhoenen's Flora Floede Karamel
3/15/1998 – 8/15/2015
Flora
The founding mother of American Danish/Swedish Farmdogs passed away this August at age 17 years and 5 months in Cupertino, California in the arms of her loving guardian, Melody.
Look at your dog's pedigree.  If your dog was born in the US, there is a nearly 50% chance that Grandmother, Grandfather or even Mom or Dad was one of Flora's puppies from her 3 litters.  Look for Solo (Flora's Han Solo) born 3/18/2001; Annika (Flora's Annika), Tilly (Flora's Matilde) or Soonja (Flora's Dana) – all born 6/27/2002.  Never to be forgotten are Hilde (Flora's Buttercup), Target (Flora's Ollaliberry) and Woody (Flora's Sagewood) – all born 10/18/2003.  Flora produced 13 puppies total.
 
The seven dogs mentioned above then produced 39 puppies.  Then next generation produced 33 puppies. The latest reproductive age generation has 9 puppies so far.  This totals 94 Flora descendants out of approximately 200 known farmdogs in the US.
There is so much more than numbers to marvel at.  Flora was brought to the US by Melody Farquhar-Chang as a puppy in 1998 from Denmark.  Melody had earned the trust of several top breeders in Denmark through diligent research and communication.  Kennel Agerhoenen belonged to Lisbeth Staunsholt-Nilsson who was a key member of the original group of enthusiasts that saved this indigenous Scandinavian breed from slow extinction.
Puppy Flora grew into a champion.  Melody brought her back on several other trips to Denmark.  On one of the early returns, Flora swept that season's show and became a Danish Kennel Club Champion.  She later became an American Rare Breed Association champion.  Active for most of her life in flyball on the Pawdemonium team, she earned her IRONDOG and FGDCH titles. Of course, she earned a Canine Good Citizenship certificate. Flora also participated in Rally-O, Agility lessons and Lure Coursing and loved them all.
Flora was a European travler -- Denmark, Germany, Czech Republic..... and all over the US.
Many of Flora's offspring became flyball and agility champions.  Several became conformation champions.  So many became lovely, intelligent, well-tempered family members.
Melody carefully chose the sires for Flora's 3 litters and through this gave the US gene pool its original burst of quality and diversity.  Flora exemplified all the superior qualities that have stood out in later generations.
Written by Carol Lemmon
My Bonnie Perikles Perlelog
6/3/2003 - 8/8/2015
Bailey
Bailey was born on June 3, 2003 in Denmark. He flew into my life in September of 2003 at the Seattle Airport.A little puppy huddled at the back of the kennel scared and tired. And so a wondrous journey began. With his best buddy Max (inseparable) his over protective mom (Lil) and Helene who made it all happen and we drove back to Cheyenne, WY a very long ways away from Denmark. Helene called him the "Soft Man" on her website but there was so much more. Loving, playful, attentive, gentle, a quick learner, loved his toys, long walks and chasing rabbits at my sister's acreage. He was a big boy but a proud one who loved to give kisses and was the only Danish Farmdog I know who would "leave it" and stop chasing the rabbits.
Bailey, Max and I learned all about dog shows on our journey. We met so many wonderful people in the Danish Swedish Farm Dog Club at the shows. On December 11, 2009 Bailey and I said goodbye to our beautiful Max and continued on our journey. Bailey was my best friend and companion always there to greet me with kisses and cuddles on waking in the morning, return from work at the end of a long day and bedtime. I said goodbye to my Beloved Bailey on August 8, 2015.
Love and miss you Forever my little heart and soul. See you at the Rainbow Bridge.
Written by Lillian Pace
DSFCA 2015 Annual Meeting
Please join us
Wednesday
November 18, 2015
4:00 p.m. Pacific time
Teleconference instructions will be sent closer to the meeting date.
---
DSFCA Needs Your Help ...
We are trying to update the Dogs in the US Page on DSFCA.org
It has been several years since we have updated this page. Many of you have new dogs. Please help us by filling out the form located below.
DSFCA Farmdog Updates

We welcome any information you have about other Danish/Swedish Farmdogs that are not members of the DSFCA.
New Board Member
Alison Smith is our new board member that will be taking over the Secretary position at the Annual Meeting in November.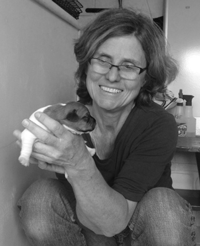 Alison Smith's views and curiosity are informed by almost 35 years of involvement with companion dogs and their owners.
Owner of Paradox Australian Shepherds and more recently, Paradox Danish Swedish Farmdogs, she is an ASCA and USASA Hall of Fame breeder of 25+ years and an AKC Breeder of Merit. Until recently Alison was also an APDT Certified Professional Dog Trainer and a Canine Good Citizen Evaluator, but has set aside training to focus on the growth of The Grinning Dog, a boarding and daycare kennel.
Alison's journey with Danish Swedish Farmdogs began in 2011 when she discovered the breed and fell for them - hard! She got to know several Scandinavian breeders who graciously began her DSF education via Skype, email and finally by taking her to tour many of the kennels of top breeders in Sweden and Denmark. Privileged to have been able to import some excellent breeding stock, Alison has now had several healthy and promising litters of DSF and is looking forward to being involved in the DSF's development in the US as well as continuing her Australian Shepherd breeding program.
Our Dogs
Farmdog Achievements


Show Ring
Little Denmark's Ignite Me Ida, "Ida". To the exterior/breeding end of things, I have a brag on a little farmdog that took "Best Of Breed" over 114 farmdogs, at the Swedish breed specialty 2015.
She was only 16 months old, judge was Paul Stanton of Sweden.
At only 16 months of age, Little Denmark's Ignite Me Ida, "Ida" and also known as "Babyface" took Best of Breed over 114 Farmdogs at the 2015 Swedish Breed Specialty.  The judge was Paul Stanton of Sweden.  Ida is sired by My Bonnie Plocka Poäng and her mother is our DKCH Little Denmark's Mount Silverheels (Sussi). She is third generation of Little Denmark females in a straight line out of old "Maddy".
At the Danish Kennel Club's international show in Rønne , August 15th 2015, our US born wonder boy "Oskar" won best of breed, and finished his title and became a new Danish show champion (DKCH).
His name is DKCH Crow's Point Kennel's Herman, his sire is DKCH Nydningen's Dirck, mother is The Emerald City's Daisy.  Oskar was born in ME.
At the same occasion old "Maddy" (DKCH SECH NOCH NORDCH ARBACH LP1 LP2 Javika's Prinsesse Madeleine) won the females and became Best Of Opposite Sex. Just 2 months before turning 14 years old - not bad!
Judge was Jens Utke Ramsing of Denmark.
K9 Nose Work
Little Denmark's Cheyanne, "Scout" is the first Danish/Swedish Farmdog to earn a Nose Work 3 Title on  May 10, 2015 in Salem Oregon.
Scout loves nose work.  Of course, why wouldn't she?  Nose work is all about the dog.  Scout just needs to follow the odor to find the hide and she gets treats.  No obedience involved.  I just need to stay out of her way and let her work.
You can read a compete article about nose work here. Briefly, in a Nose Work 3 Trial, the dog has four searches which includes a vehicle, interior, container and interior search.  In the vehicle, interior and container searches, there could be from 1 to 3 hides.  In the interior search, there are three rooms to search with 0 to 3 hides in each room.  The handler doesn't know how many hides (if any) in each search and the odors could be either birch, anise or cloves or any combination of those odors.  There is also a time limit for each search and the handler must call "finish" before the time runs out or lose your points from that search.  You must have 100 points (successfully compete all your searches) to get NW3 Title.
Not to be out-done by her sister, the following month, Little Denmark's Sioux Stub Butt, "Suzy" also earned her Nose Work 3 Title.
Flora's Cool hand Luke earned his NW3-C and NW3-V titles September 5, 2015 in Santa Paula. I think of them as survivor ribbons because we have participated in so many NW3 trials and Luke's partner (me) can't seem to earn him his first NW3 title. I was really surprised when they called his name, I had never bothered to keep track. Just too busy watching my dog and trying to learn from each trial. Looking forward to many more fun trials like we had in Santa Paula.
Trick Dog Title
Topo Valley Joaquin Murietta, "Jack" has achieved his Novice, Intermediate, Advanced, and Expert trick dog titles.
Flyball
Congratulations to Matilde's Tigger and Crows Point August who earned their Top Flight Executive pins (2500 Points) at the Wicked Aces Fall Flyball Fling in Las Vegas. Way to go guys!
Tigger & August were born 2 weeks apart. Tigger is the oldest.
2016 DSCFA Calendar Sales
We are now taking orders for the DSFCA 2016 Calendar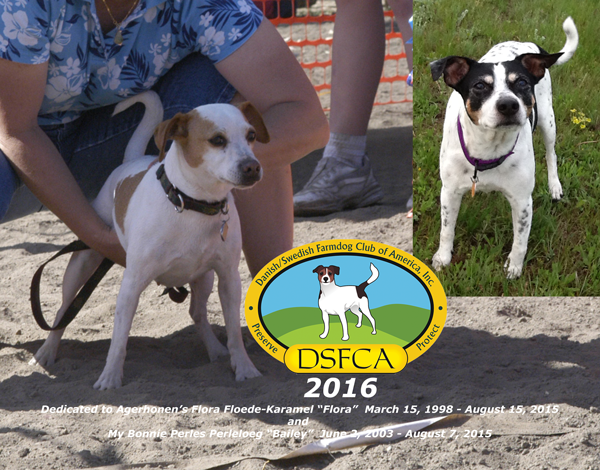 Keeping track of important dates on your Wall Calendar is easy when you can view 12 months of inspiring images that reflect your personal style. Our high-quality 12-month Wall Calendar is printed on thick 100lb cover weight paper and adds impact to any room.
Each page measures 11" x 8.5"
Measures 11" x 17" when hung on wall
100 lb cover weight high gloss paper, wire-o bound
Price: $30.00
Take advantage of quantity discounts
| | | | | |
| --- | --- | --- | --- | --- |
| 2 - 4 | $27.00 ea. | | 5 - 9 | $25.00 ea. |
| 10 - 19 | 22.50 ea. | | 20 + | $20.00 ea. |

Valhalla's Pistol "Pistol"
Photo Credit: Billy Coleman

Flora's Buttercup "Hilde" and Winther's Blanca "Blanca"
Photo Credit: Bruce Feller

2015
Farmdog Litters

Little Denmark's Cheyenne "Scout"
Photo Credit: Jeri Reingardt

Winther's Dot Dakota and Little Denmark's Kind of Kaluha "Kahlúa"
Photo Credit: Marganna King

DANASA'a Olaf the Snowman "Stig"
Photo Credit: Cooper Hanning

Little Denmark's Ignite Me Ida "Ida"
Photo Credit: Helene Pedersen

Crow's Point August "August"
Photo Credit: Agile Dog Photography

Farmdog Seniors
(Born prior to 2006)

Topo Valley Joaquin Murietta "Jack"
Photo Credit: Samantha Marion

Matilde's Nellie "Nellie" and Matilde's Tigger - I'm the Only One "Tigger"
Photo Credit: Sue Cohen

DANASA's Princess Anna "Harlie"
Photo Credit: Rachel Ostreko